"Nonviolence as a way of life in the web of creation"
In response to Pax Christi International invitation to celebrate our Catholic Nonviolence Days of Action, and to observe how nonviolence connects all our work for justice and peace, AEI has carried out some nonviolent and peaceful actions.
Here are some of these initiatives:
During two teachers' training workshops in Ramallah and Bethlehem, AEI together with its network of 30 public and private schools allocated two sessions about the themes of Nonviolence, justice and peace in the teacher's training sessions. The sessions began with two interfaith Bible and Quran readings of various about these topics. Two Christian and Muslim religious education teachers read these verses.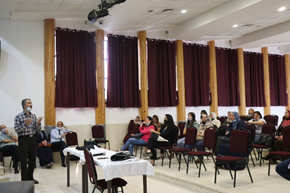 The presentations and discussions focused on the topic of Nonviolence in the Gospel and Quran, the principles and philosophy of Mahatma Ghandi, the Sermon of the Mount in the Bible and other verses about nonviolence from the Quran were also discussed.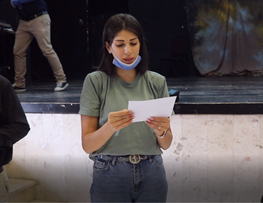 The AEI / Sumud Story Women's group went in a silent march from the Sumud Story House towards the Separation Wall. They read interfaith prayers, raised slogans and they stood silently in solidarity with the Palestinian prisoners in the Israeli prisons. A woman held a picture of her son in the prison. The AEI – Bethlehem Sumud Choir group sang some national and peace songs in the march too.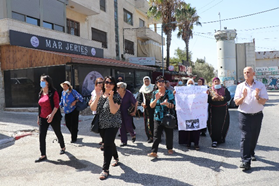 Nonviolent activities with the kids' group were organized: drawing and coloring pictures symbols for peace. Also they read some prayers for justice and peace and sang a hymn about peace.